Expecting your Halloween party to be the same as all the others? People wearing  white sheets? Toilet-paper mummies?  Here are some frightfully good cocktail recipes, which are sure to keep your guests a bit more entertained!
Voodoo
½ measure kalua
½ measure Malibu
½ measure Godfreys' Butterscotch Schnapps
1 measure milk
All of the ingredients should be chilled beforehand. Mix the ingredients together with ice in a mixing glass and then strain into a shot glass to serve.
Cursed Water
1 oz rum
½ oz gin
¼ oz Godfrey's Peach Schnapps
1 tbsp honey
hot tea
¾ fill a hot mug with tea, then add all of the other ingredients and stir gently.
Brain Hemorrhage
1 measure Godfrey's Peach Schnapps
1 tsp Baileys
½ tsp grenadine
Pour the peach schnapps into a shot glass, next carefully float the Baileys on top. Finally top with the grenadine.
Ghostbuster
1 oz Godfrey's Peach Schnapps
1 oz melon liqueur
3-5 drops baileys
Put the schnapps and liqueur into a cocktail shaker with ice and shake well. Strain into a cocktail glass and add the baileys drop by drop into the middle of the drink.
For some added ghoulishness, try making some creepy ice-cubes by putting some toy bugs, worms, eyeballs etc in an icecube tray with water before the party.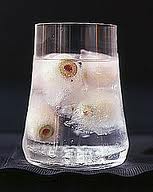 http://www.squidoo.com/halloween_cocktails