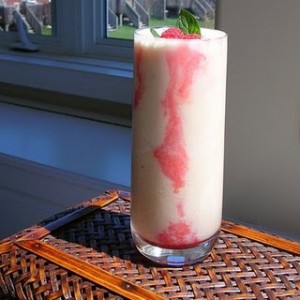 I saw this fruity cocktail online recently (http://www.thedragonskitchen.com/) , and tried it with Godfrey's Peach Schnapps… absolutely dreamy and perfect as a desert after a Sunday Brunch… Enjoy!
Ingredients:
Makes: 2
1 1/2 cups frozen peaches, sliced and slightly thawed
3/4 cup Greek yogurt, plain
1/2 cup milk
6 ml Godfrey's Peach Schnapps
1 tablespoon liquid honey
3 ml Framboise (raspberry liquor)
4 raspberries
4 mint leaves
Directions:
1) Combine peaches, yogurt, milk, peach schnapps and honey in a blender. Add a little more milk if the mixture seems too thick.
2) Divide smoothie between two large glasses; drizzle Framboise into each glass, dividing evenly (Framboise will sink slowly to the bottom of the glass).
3) Garnish with raspberries and mint leaves. Serve at once.